---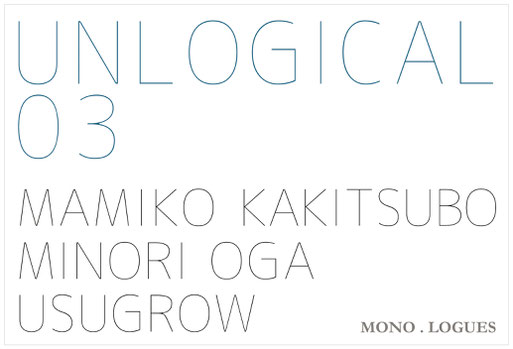 ---
group show 
UNLOGICAL 03
Mamiko Kakitsubo / Minori Oga / USUGROW
 <completed>
--
26 Mar. - 18 Apr. 2022      
Open: on Saturday, Sunday 11am-5pm / on Monday 1-7pm
Venue: MONO.LOGUES
Instagram: www.instagram.com/mono.logues_/
*In Response to the Novel Coronavirus
・Please refrain from coming to the gallery if you have any symptoms such as fever or cough.
・Please wear a mask and disinfect your hands with alcohol at the entrance.
・Please note that if the gallery space is crowded, there may be a restriction on entry.
・Please note that health-related measures may change without notice.
*There is no restroom and parking lot in this space.
--
MONO.LOGUES holds the group show "UNLOGICAL 03" with works of Mamiko Kakitsubo, Minori Oga and USUGROW from 26 March to 18 April.
The UNLOGICAL series, now its 3rd edition, is a group show that introduces 3 artists who don't have a personal connection between them, not focusing on the commonality of the artists' thoughts and works but rather on different work concepts and activity background.Through the polyphonic space in which the different form of expression of each artist are woven, we wish to guide you to new discoveries and to the senses. Please enjoy the show.
--
---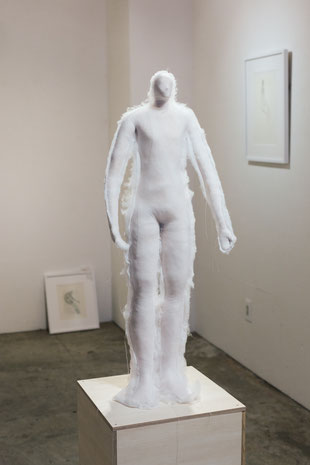 mist/ 2021/ terracotta,cotton,cloth,thread/ 700×300×200mm
--
Mamiko Kakitsubo
1993 born in Tokyo. 2022 currently a master's student at the Tokyo University of the Arts majoring in sculpture. 
Sculptor. Born into a Catholic family and involved in producing prototypes of Miraculous Medals as part of her work.
Inspired by the myth of the creation of Mankind, she exhibited sculptures of doll(golem) and others. Thinking that "this body alone, which we will loose one day, may not prove that a human being is a human being", she works with motifs of daily goods, scenery, breathing and body heat. Considering the human body sculpture as a stiff skin in her recent works, she tries her own expression of human anatomy she is feeling, in a form of sculptures by combining materials. 
Her major exhibitions include: "WALLAby" (2020, GINZA ATRIUM/GINZA TSUTAYA BOOKS, Tokyo), "DOLLMAGE" (2021, TIERS GALLERY byArakawagrip, Tokyo),  "The 24th "1_WALL" Graphics Exhibition" (2021, Guardian Garden, Tokyo), solo exhibition "nobody" (2021, gallerie H, Tokyo ), solo exhibition "sign" (2021, galleryBLUE3143, Tokyo), solo exhibition "mist" (2021, FLEW GALLERY, Tokyo) . Awards received, finalist in 24th "1_WALL" Graphics and so on.
https://www.mamikokakitsubo-artwork.com/
---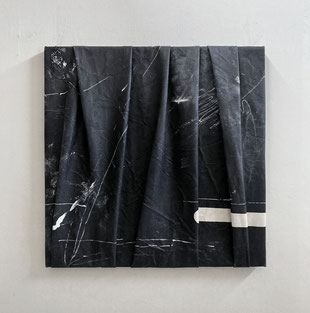 Drapes/ 2022/ cotton sailcloth, acrylic paint, wood panel/ 530×530mm
--
Minori Oga
Graduated from the Tokyo University of the Arts, Department of Crafts, Urushi-Art (Japanese Lacquer) Course.
After working as a lacquer art artist, she starts to draw 2-dimensional works because of the change of her mind state and environment and had her first solo exhibition in 2020.
She expresses by means of various materials with the style to draw an image impromptu, which arises the moment she faces the substrate.
She offers art works to graphic design and clothing brand.
<main exhibitions>
2020.11 BAF Studio Tokyo [Vague]
2021.02 Life's Dikanyama [DRAWINGS]
2021.04 Life's Fukuoka [DRAWINGS]
2021.08 SR Coffee Roaster & Bar
2021.11 DIGINNER GALLERY [In the fog]
2022.02 Candle cafe 12 [2022.2.2-2022.2.22]
---
SPIRIT BEYOND BORDERS / 2021/ Acrylic on canvas / 91 x 117cm
--
USUGROW
Usugrow started his art career by creating flyers in the underground punk and hardcore music in the early '90s. He develops creative activities beyond methods and media as illustration, calligraphy, canvas painting, and mural.
He is currently creating artwork with the theme of cultural diffusion with the motif of his original calligraphy and folk dances.
---
translated by Manami Midorikawa
---
---